Patiala Babes: Babita openly express her feeling for Hanuman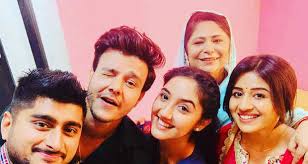 Patiala Babes: Babita (Paridhi Sharma) openly express her feeling for Hanuman (Anirudh Dave)
Sony Entertainment Television popular daily soap Patiala Babes is gearing up for new twist and drama.
Babita and Minni had faced Ashok and throws him out of their life, here Babita asks Hanuman to return back to London to Mita.
Babita tells Ashok that she has moved ahead in life and has got all strength from Hanuman and Minni.
Hanuman is happy that he has some place in Babita's life, while a new drama is ging to unfold now.
Babita openly express her feelings
Hanuman is happy and as well as sad as Babita has given credit to him but had yet not expressed her feelings for him.
Hanuman gets drunk and finally confronts Babita over how she feels for him and whatever is in her heart she must speak.
Will Babita confess her real feelings of love and care for Hanuman and where will ths story go ahead to.
Latest Patiala Babes Updates