Jamai Raja: Sid's plan successful, Roshini starts liking Sid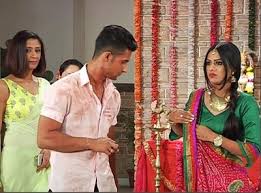 Jamai Raja: Sid and Roshini's romance reborn, Roshini starts liking Sid
The upcoming episode will show Sid was trying hard to get his Roshini's memory back.
Sid wants his Roshini to recall all their love and their romance
But Sid was not able to get his Roshini's memory back but is successful in inculcating love between them.
Sid has disguised as Jyoti Tai to save his Roshini from Kunal and Bansiben.
Roshini romances with Sid
But now Shabhnam forces Kunal and Roshini to get married soon.
But Roshini has started liking Sid and thinks of Sid everywhere
Roshini and Sid's love will be seen reborn amid them and help Sid to get his Roshini back.
Stay tuned for more exciting updates of the upcoming episodes.