Kundali Bhagya: Preeta supports Prithvi Karan's revengeful marriage dhamaka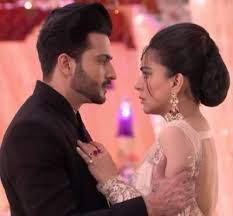 Kundali Bhagya: Preeta (Shraddha Arya) supports Prithvi, Karan's (Dheeraj Dhoopar) revengeful marriage dhamaka
Zee TV's popular daily soap Kundali Bhagya is gearing up for new twist and drama.
Preeta is shocked after the big revelation made by Rishabh against Prithvi.
Sarla and Preeta couldn't believe it and thus falls in trap and trusts Prithvi over anyone else.
Preeta rescues Prithvi out of jail and Karan gets to know about it and is shocked to hell.
Karan and Preeta's revenge dhamaka
Karan is shocked as how can anyone save a person like Prithvi, here Preeta and Prithvi plans to get married.
While Karan is super angry and revengeful as how Preeta can save Prithvi who had done wrong to Luthra family and thus will play groom swap game and gets married to Preeta to accomplish revenge.
Stay tuned for more exciting updates of the upcoming episodes only on latestgossipwu.com