Ishq Subhan Allah: Zara Kabir's war over Elina Amir's love story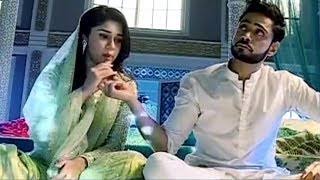 Ishq Subhan Allah: Zara (Eisha Singh) and Kabir's (Adnan Khan) war over Elina and Amir's love story
The upcoming episode of Zee TV's popular daily soap Ishq Subhan Allah is up for high voltage drama.
Zara and Kabir are happy as things are moving well but Zeenat will not let this happen.
Zeenat learns the fact that Elina is going to meet Amir at midnight and is taking food for him.
Zeenat plans to use this as reason of war amid Zara and Kabir, Zara is supporting Elina and trying to guide her.
Zeenat and Kashan's new plan
Zeenat will present it infront of Kabir such that Elina is getting support of Zara in this love.
This love of Elina and Amir will turn reason of clash amid Zara and Kabir.
Stay tuned for more exciting updates of the upcoming episodes only on latestgossipwu.com