Gathbandhan: Raghu gets cosy with Maya Dhanak's heart break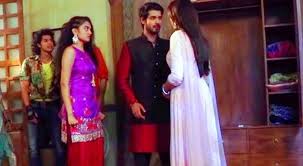 Gathbandhan: Raghu (Abrar Qazi) gets cosy with Maya, Dhanak's (Shruti Sharma) heart break
The upcoming episode of Colors popuar daily soap Gathbandhan is gearing up for new drama.
Dhanak had put challenge infront of Raghu to marry Maya and only then she will sign the dvorce papers.
Dhanak knows that Raghu loves her and will never marry Maya, while here Raghu and Maya heads to market for wedding shopping.
Dhanak sees them in market where Raghu is making Maya wear bangles and shares cosy moments with her.
Raghu gets cosy with Maya
Dhanak feels jealous seeing this andfears if Raghu will really marry Maya and leave her and end their oath of togetherness.
What more drama and dhamaka is going to unfold up next in Rgahu and Dhanak's life.
Stay tuned for more exciting updates of the upcoming episodes only on latestgossipwu.com