YUDKBH: Sameer Naina's happiness hit by bad news twist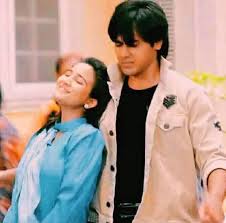 Yeh Un Dinon Ki Baat Hai: Sameer (Randeep Rai) and Naina's (Ashi Singh) happiness hit by bad news twist
Sony Entertainment Television popular daily soap Yeh Un Dinon Ki Baat Hai is up for new drama and twist.
Sameer and Naina's life seems to be going smooth and their daughter has turned lucky charm for them.
While this happiness and joy will be accompanied by a shocking twist and a bad news.
Sameer will learn about the Maheshwari company trouble as how the company is at verge of declaring bankruptcy.
Sameer and Naina's shocking step to return back to Ahmedabad
Sameer and Naina are all shattered and that takes decision to return back to Ahmedabad to revive Maheshwari business.
Sameer can't let his family suffer and that too Nana Ji's company which was his dream and thus takes a step forward to help Mama ji.
Stay tuned for more exciting updates of the upcoming episodes only on latestgossipwu.com
Latest Yeh Un Dinon Ki Baat Hai Updates