Guddan Tumse Na Ho Payega: Revti marries Parv for Angad's safety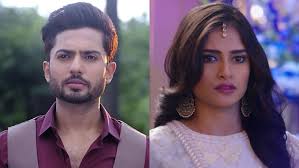 Guddan Tumse Na Ho Payega: Revti marries Parv (Rehaan Roy) for Angad's safety
The upcoming episode of Zee TV's popular daily soap Guddan Tumse Na Ho Payega is gearing up for new twist and drama.
Guddan, Akshat and Angad learns a shocking truth that how Parv has kidnapped Revti to force her into marriage.
Angad reaches on time to fight against Parv and save Revti but opposite happens, here Parv puts Angad at gunpoint.
Parv puts Angad at gunpoint and force Revti to marry him nor he will kill Angad.
Revti marries Parv
Revti is shattered as she loves Angad but can't let his life be in danger because of her.
Revti thus agrees to marry Parv just to save Angad and his life, will this bring end to Angad and Revti's love story.
Will Guddan be able to stop all this mess created by Parv and save her sister Revti.
Latest Guddan Tumse Na Ho Payega Updates