Tujhse Hai Raabta: Atharv Atul's nasty deal for Kalyani's marriage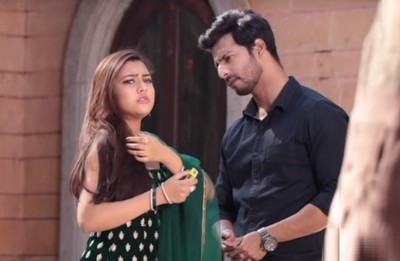 Tujhse Hai Raabta: Atharv (Shagun Pandey) and Atul's nasty deal for Kalyani's (Reem Shaikh) marriage
Zee TV's popular daily soap Tujhse Hai Raabta is gearing up for bitter dhamaka in the tale.
Atharv is put on a new game where she plans to get married to Kalyani and had produced the idea to Aao Saheb.
Aao Saheb had declared that Kalyani and Atharv will get married, while Anupriya and Kalyani had opposed it.
While here Atul also support Kalyani but not for too long as here Atharv puts a lucrative deal infront of Atul.
Atharv and Kalyani's marriage dhamaka
Atul agrees as Atharv presents himself as good and changed man and things starts to change.
Atul this cracks a deal with Atharv and agrees for Kalyani's marriage with Atharv which is shocked for Anupriya and Kalyani.
Stay tuned for more exciting updates of the upcoming episodes only on latestgossipwu.com