Yeh Un Dinon Ki Baat Hai Latest News 10th February, 2019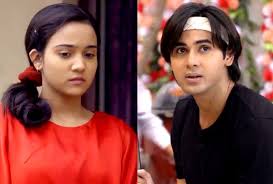 Yeh Un Dinon Ki Baat Hai Latest News 10th February, 2019
The upcoming episode of Sony Entertainment Television popular daily soap Yeh Un Dinon Ki Baat Hai is up for high voltage drama.
Sameer and Naina's life takes new turn as their wedding preparations are in full swing and sangeet ceremony is organised.
Maheshwari's has also become part of Sameer's happiness after what all happened, while now Agarwal family and Naina comes for sangeet ceremony.
Here Naina is searching for Sameer while Mama and Mami are planning something different.
Mama and Mami taunts Agarwal family and Naina
Mama and Mami taunts Agarwal family over Rakesh's absence from the sangeet ceremony and Naina feels bad.
Anand and Bela tries to handle situation and things are not working well, while Anand asks for Sameer.
Mamaji and Vishakha's husband taunts Anand over it as how will they know as Sameer is more of them than theirs.
Stay tuned for more exciting updates of the upcoming episodes only on latestgossipwu.com