ETR2: Badi Rani-Rageshwari's Vashikaran plan, Gayatri tensed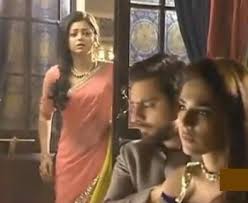 Ek Tha Raja Ek Thi Rani: Badi Rani Maa and Rageshwari's Vashikaran plan, Gayatri tensed for Ranaji
The upcoming episode will show that Ranaji and Gayatri are coming close to each other.
Ranaji and Gayatri's love and romance is reborn amid them.
But Badi Rani Maa and Rageshwari has evil eye on their increasing love.
Badi Rani Maa and Rageshwari plans to use Vashikaran trick to use Ranaji against Gayatri.
Rageshwari gives Ranaji Vashikaran powder and forces him to go for hunting.
Rageshwari-Ranaji's hunting trip
Gayatri is tensed to know about Rageshwari and Ranaji's jungle trip.
Rageshwari plays another trick to stop Gayatri from going along with them.
Let's see what are Rageshwari and Badi Rani Maa's evil intentions.
Stay tuned for more exciting updates of the upcoming episodes.
Latest Ek Tha Raja Ek Thi Rani Updates