Tashan-e-ishq: Twinkle-Kunj joins hand against Yuvi to save Mahi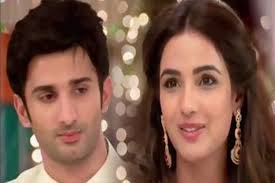 Tashan-e-ishq: Twinkle and Kunj joins hand to reveal Yuvi's truth, to save Mahi
The upcoming episode will show that Yuvi has evil intentions behind marrying Mahi.
Yuvi has insulted Mahi to take revenge from Twinkle.
Twinkle is tensed for her sister and wants to save Mahi from Yuvi's evil intentions.
Kunj supports Twinkle in her fight against Yuvi and promises to save Mahi.
Yuvi's evil plan
Twinkle and Kunj takes Rajasthani avatar on Mahi's sangeet ceremony to expose Yuvi.
While Yuvi has some bigger plans to insult Twinkle and her family before all.
Let's see will Twinkle and Kunj be able to expose Yuvi infront of Mahi.
Stay tuned for more exciting updates of the upcoming episodes.
Latest Tashan E Ishq Updates