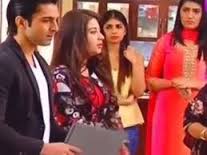 Yeh Hai Mohabbatein: Raman and Ishita turns furious seeing Sohail's (Gaurav Wadhwa) increasing closeness with Ruhi (Aditi Bhatia)
The upcoming episode of Yeh Hai Mohabbatein will show high voltage drama where Raman and Ishita gets clue against Sohail.
Raman and Ishita although can't do anything as Ruhi won't believe them and also Sohail can play counter trick on them.
Raman and Ishita thus takes guards help to keep eye over Sohail but Sohail turns smart enough and disguises himself as Sardar.
Sohail has to go to meet Nidhi in jail, Raman and Ishita wants to know about his connection of revenge against their family.
Sohail and Nidhi involved together
Sohail manages to escape from Raman-Ishita's spy eye, Sohail goes and meet Nidhi for further planning.
There Ruhi gets a gift which contains nighty, Raman and Ishita are shocked seeing it thinks that it's for Mihika or Aliya.
Ishita soon finds that Sohail has send this for Ruhi, Raman and Ishita gets furious knowing this.
Stay tuned for more exciting updates of the upcoming episodes.