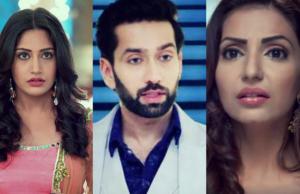 Ishqbaaz: Anika(Surbhi Chandana) gets fail in her plan of exposing Shwetlana
The upcoming episode will witness high intensity drama in Oberoi house.
Om stops Shwetlana and Tej from leaving the house saying he has no problem with her stay.
The truth is that it is actually a part of their plan and to expose Shwetlana it is very necessary for her to stay.
Anika Shivay Om want to show Tej and others her real identity and so they make a plan to first find out if she can walk or is dramatising.
Anika mixes too much chilly in her food
Anika prepares food for Shwetlana adding too much chilli powder in it.
Shwetlana eats the food and realise its too spicy, she suddenly stands up to get water but then catch Anika standing out so to fool them she makes herself fall thus failing Anika's plan.
Stay tuned for further updates.