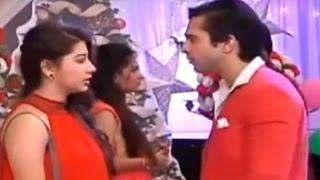 Yeh Hai Mohbbatein: Ishita (Divyanka Tripathi) furious over Sohail's(Gaurav Wadhwa) gift to Ruhi(Aditi Bhatia)
The forthcoming episode of Yeh Hai Mohobbatein will showcase more drama in Ishita and Ruhi's life.
Sohail in order to create more misunderstandings between Ruhi and Ishita will send a cheap gift for Ruhi that will be a nightgown.
Everybody will be shocked to see someone can send Ruhi such a gift in this way.
Ishita finds Ruhi missing
Furthermore, Ishita will find Ruhi missing in house and after a lot of phone calls to her, Ishita will come to doubt Sohail again thinking he must have taken her somewhere else.
Raman and Ishita till now have not made any revelations to their family about MMS or the blackmailer, so they have become more alert regarding their beloved daughter as they know she is a puppet in the hands of Sohail.
Stay tuned for further details.