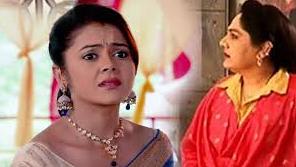 Saath Nibhana Saathiya: Gopi(Devoleena Bhattacharjee) finds Urvashi near a temple, takes her to home
The upcoming episode will witness more of high intensity drama in Modi house.
Urvashi has found out Gaura is the one who was till now plotting against all and that she is dramatizing her illness.
When everyone was tensed then Gaura was dancing in her room and this is when Urvashi witnessed her drama that Gaura can walk and will try to expose her in front of all.
But, Gaura will hurt hard Urvashi and make her get kidnapped from the venue.
Gopi finds Urvashi at last
Gopi and everyone in tension will visit temple where she will be shocked to see Urvashi in a terrible state.
Gaura will be present there but unfortunately will not be able to kill Urvashi as she planned to because of Gopi.
Stay tuned for more updates.