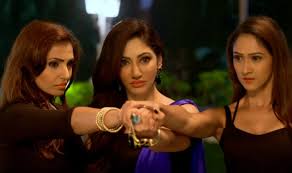 Ishqbaaz: Swetlana (Reyhna Malhotra) smartly makes Rudra (Leenesh Matto) bring Romi to Oberoi mansion
The upcoming episode of Ishqbaaz will show high voltage drama where Swetlana's half truth comes before Shivaay and Anika.
Anika has found that Swetlana is involved behind acid attack and other attacks over Shivaay thus reveals truth to Shivaay.
Shivaay, Anika, Rudra and Omkara all comes together against Swetlana finding her real intentions behind attack over Shivaay.
Swetlana and Tia are making plans to get Romi entered in Oberoi mansion and gets a master trick to blackmail Rudra.
Romi blackmails Rudra
Romi sends Priyanka's MMS video to Rudra and asks him to bring her in Oberoi mansion nor she will leak the video.
Swetlana threatens Rudra to do as they say nor it will be dangerous for his family and especially Priyanka who will get defamed.
Stay tuned for more exciting updates of the upcoming episodes.