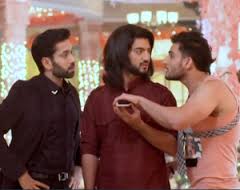 Ishqbaaz: Shivaay, Omkara, Rudra (Leenesh Matto) together against Swetlana (Reyhna Malhotra) finding her real intentions
The upcoming episode of Ishqbaaz will show high voltage drama where Anika gets hint against Swetlana's evilness.
Anika is although still unaware that Swetlana is involved with Tia are they are sisters taking revenge from Oberoi's.
Anika warns Shivaay, Omkara and Rudra about Swetlana's intentions, Omkara thus stops Swetlana from leaving Oberoi mansion.
Shivaay, Omkara makes a plan to keep your enemies closer to keep eye over them, Omkara thus stops Swetlana from going away.
Swetlana's master plan against Shivaay and Anika
Omkara, Rudra and Shivaay thus tests Swetlana's true intentions and her real motive behind doing such attack on Oberoi's.
Swetlana and Tia turns out to smart and doesn't get into Shivaay and Rudra's trap, Anika is irked seeing this.
Let's wait and watch what will Shivaay, Anika, Rudra and Omkara do now finding Swetlana's evil truth and hidden intentions.
Stay tuned for more exciting updates of the upcoming episodes.