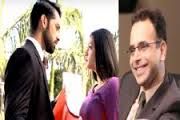 Zindagi Ki Mehek: Sanjay (Harsh Chhaya) marks his entry in Shaurya (Karan Vohra) and Mehek's sangeet ceremony destroying all
The upcoming episode of Zee TV's popular show Zindagi Ki Mehek will show high voltage drama where another Villian enters Shaurya and Mehek's life.
Shaurya and Mehek loves each other and are winning over all evils by defeating Swetlana in everything.
Swetlana had planned pregnancy drama to part away Shaurya and Mehek but Shaurya fails Swetlana's this cheap plan.
Shaurya stunned seeing Sanjay back
Shaurya and Mehek are happy to be together and enjoys their sangeet ceremony where Shaurya turns Raj for Mehek.
Mehek and Shaurya shares adorable love moments with each other, family is happy for Shaurya and Mehek.
While another twist is yet to enter in Shaurya and Mehek's life and that is super villian Sanjay Khanna that is Shaurya's uncle.
Stay tuned for more exciting updates of the upcoming episodes.