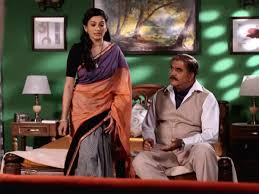 Jaana Na Dil Se Door: Daddy ji attempts to kill Vividha, Ravish (Shashank Vyas) shoots Daddy ji saving Vividha (Shivani Surve)
The upcoming episode of Star Plus popular and high rating show Jaana Na Dil Se Door will show one of the major twist in the upcoming episode.
Vividha who is worried over killer attacks on Atharva is trying to find that who is against Atharva and wants to kill him.
Vividha reaches farmhouse finding truth, gets clue that it's not Vipul but someone else who attempted to kill Atharva by drowning him.
Daddy ji comes there and tells that its he who wants to kill Atharva over injustice happening with Suman and Ravish.
Ravish shots Daddy ji for Vividha
Daddy ji thus claims that he will also kill her and that mad Atharva, Ravish and Suman searching for Vividha and Atharva.
Ravish gets to farmhouse and finds that Daddy ji is after Vividha and attempting to kill Vividha and Atharva.
Ravish shots Daddy ji saving Vividha and Atharva from Daddy ji's killer plan.
Stay tuned for more exciting updates of the upcoming episodes.