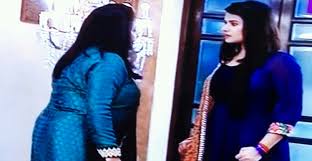 Kasam Tere Pyaar Ki: Bani, Neha manipulates Tanuja (Kratika Sengar) gets Rishi (Ssharad Malhotra) and Bedi family arrested for domestic violence
The upcoming episode of Kasam Tere Pyaar Ki will show high voltage drama where Rishi exposes Malaika's truth before Rano and all.
Rano is shocked knowing this and throws Malaika out of Bedi house, there Tanuja reaches Bani and Neha's house due to small accident.
Tanuja couldn't recall what all happened with her, Bani and Neha takes advantage of this situation and attempts to manipulate Tanuja.
Bani wants to take revenge from Rano while Neha is also against Bedi family and Rishi thus traps Tanuja to take their old revenge.
Rishi and Bedi family gets arrested in domestic violence
Bani and Neha files domestic violence case against Bedi family using Tanuja, while Tanuja isn't aware about this truth.
Rano, Rishi, Raj, Beji all are stunned knowing that Tanuja gets them arrested for domestic violence.
Stay tuned for more exciting updates of the upcoming episodes.