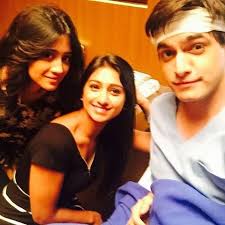 Yeh Rishta Kya Kehlata Hai: Keerti's husband Aditya's hidden intentions against Kartik (Mohsin Khan) and Naira (Shivangi Joshi)
The upcoming episode of Yeh Rishta Kya Kehlata Hai one of the popular show of Star Plus is awaiting a new entry.
This new entry will be of Keerti that is Kartik's sister's husband Aditya, Aditya will enter on the day of Kartik and Naira's engagement.
Kartik is happy and excited seeing Aditya on his engagement and hugs him, Kartik thanks Aditya for coming.
Naira and others are stunned seeing Kartik's love for Aditya when he introduce him as Keerti's husband Aditya.
Aditya's troublesome entry in Naira and Kartik's life
Aditya tries to shake hands with Naira while she shows her gratitude and says namaskar to him, Aditya cunningly looks at Naira.
Aditya is a new stroke in Kartik and Naira's happy go lucky life, Aditya's entry will create confusion and drama in upcoming episodes.
Stay tuned for more exciting updates of the upcoming episodes.