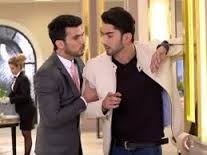 Pardes Mein Hai Mera Dil: Naina (Drashti Dhami) takes Raghav's insult revenge makes Veer wash Raghav's (Arjun Bijlani) feet
The upcoming episode of Pardes Mein Hai Mera Dil will show high voltage drama where Veer and Sanjana's marriage preparations are going on.
Raghav and Naina are helping others in the preparations as Dadi wants them to be part of the marriage ceremony.
While Veer is irked with Naina and Raghav and thus leaves no stone unturned to insult Raghav in any situation.
Naina can't see Raghav getting insulted like this and saying nothing for himself, Naina slaps Veer for trying to insult Raghav.
Raghav and Naina's love against Veer
Naina thus makes a plan to bend Veer infront of Raghav making him realize that how great Raghav is and how cheap is he.
Naina asks Dadi to make Veer wash Raghav's feet in his tilak ceremony in order to complete the rituals of tilak ceremony.
Veer gets irked hearing this and plans to take revenge from Naina for his this insult.
Stay tuned for more exciting updates of the upcoming episodes.