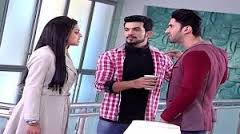 Pardes Mein Hai Mera Dil: Raghav (Arjun Bijlani) saves Naina from Veer's (Laksh Lalwani) molestation attempt
The upcoming episode of Pardes Mein Hai Mera Dil will show high voltage drama where Raghav and Naina are planning to save Rajiv.
Naina has returned to Mehra house with intentions to prove her brother Rajiv's innocence before law and Dadi.
Naina also helps Dadi and Raghav in Veer and Sanjana's marriage preparations but enters into argument with Veer.
Veer is leaving no opportunity to insult Naina and Veer, Naina couldn't handle this and slaps Veer.
Raghav beats Veer for misbehaving with Naina
Veer gets irked by getting slapped by Naina and thus makes plan to take revenge from Naina thus decides to teach lesson to her.
Veer makes plan to molest Naina, and forces himself over Naina Raghav thus makes heroic entry saving Naina from Veer.
Stay tuned for more exciting updates of the upcoming episodes.