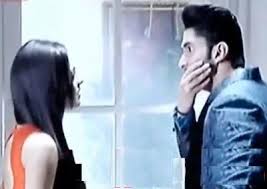 Pardes Mein Hai Mera Dil: Veer's (Laksh Lalwani) vicious rape attempt taking revenge from Naina (Drashti Dhami)
The upcoming episode of Pardes Mein Hai Mera Dil will show high voltage drama that Naina returns to Mehra house.
Naina has returned with intentions to prove her brother Rajiv's innocence before law and save him from police charges.
Raghav is also helping Naina and has brought her back in Mehra house for seven days deal till Veer and Sanjana's marriage.
Naina was trying to do her work when she notices that Veer leaves no opportunity to insult innocent Raghav.
Naina slaps Veer for Raghav
Naina couldn't resist Raghav's insult and thus slaps Veer for such disrespect, Veer gets irked seeing this.
Veer turns revengeful and decides to take this insult revenge from Naina and attempts to rape her teaching lesson to her.
Let's wait and watch for the upcoming molestation drama in Pardes Mein Hai Mera Dil.
Stay tuned for more exciting updates of the upcoming episodes.