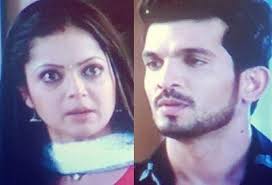 Pardes Mein Hai Mera Dil: Raghav (Arjun Bijlani) fulfills his duty of being a friend, saves Naina (Drashti Dhami) from wardrobe malfunction
The upcoming episode of Pardes Mein Hai Mera Dil will show high voltage drama where Raghav and Naina's marriage isn't going so smooth.
Family problem has crept in their relationship and this almost ruining their love and life, Naina is concerned for her brother Rajiv.
Naina has returned to Mehra house for proving her brother Rajiv's innocence, Raghav is also helping Naina in this mission.
Naina and Raghav takes active participation in Veer and Sanjana's marriage preparations for Dadi, Naina makes rangoli for the occasion.
Raghav saves Naina from getting embarrassed
While Naina was making rangoli some wardrobe malfunction happens with her dress which she is unaware about.
Sone of the guests makes fun of Naina, Raghav couldn't see this happening to Naina as she is his friend before anything else.
Raghav comes and cover Naina, comes closer to her to protect her from getting embarrassed.
Stay tuned for more exciting updates of the upcoming episodes.