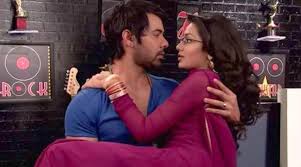 Kumkum Bhagya: Abhi (Shabbir Ahluwalia) proposes Pragya (Sriti Jha) expressing his love feelings
The upcoming episode of Kumkum Bhagya will show high voltage drama where Abhi is jealous seeing Pragya and Purab together.
Abhi loves Pragya and thus feels jealousy, Abhi although isn't aware about his feelings towards Pragya.
Abhi and Pragya's restaurant competition and close dance brings Abhi and Pragya more closer to each other.
Abhi realizes that he has special feelings for Pragya and Pragya also likes him and has soft corner towards him.
Abhi decides to propose Pragya, Purab happy
Abhi talks to Dadi about his feelings towards Pragya, Dadi is happy knowing this that Purab's jealousy plan is working successfully.
Dadi also pushes Abhi towards Pragya and suggest him to express his feelings for Pragya and let everything left on her after this.
Abhi likes Dadi's this idea to propose Pragya for their love and let Pragya make the choice.
Stay tuned for more exciting updates of the upcoming episodes.