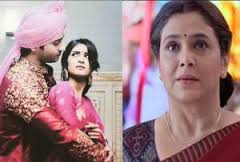 Kuch Rang Pyar Ke Aise Bhi: Dev (Shaheer Sheikh) Sonakshi's (Erica Fernendes) increased trouble post Ishwari and Bijoy's fight
The upcoming episode of Kuch Rang Pyar Ke Aise Bhi will show some high voltage drama in Dev snd Sonakshi's life.
Dev and Sonakshi are already facing much interference in their life, where Ishwari is doing all to irritate Sonakshi unknowingly.
Sonskshi and Dev's relationship faces much trouble because of Ishwari's interference and attitude but can't say anything to her.
Dev don't want to hurt either his mother nor his wife Sonakshi and thus is stuck amid both of them and had no escape.
Dev Sonakshi's new trouble
Radha Rani instigates Ishwari against Sonakshi and her family thus creating rift amid Ishwari and Bijoy which turns huge war.
Dev ends up slapping Bijoy over this bitter argument and lands his relationship with Sonakshi in trouble.
Let's wait and watch for more drama and how will Dev sort these family troubles.
Stay tuned for more exciting updates of the upcoming episodes.