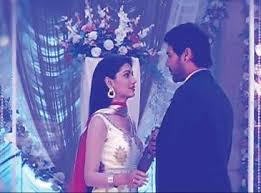 Kumkum Bhagya: Abhi (Shabbir Ahluwalia) gets lost in Pragya's (Sriti Jha) beauty, shares romantic eyelock
The upcoming episode of Kumkum Bhagya will show some more drama amid Abhi and Pragya.
Abhi is upset with Pragya and Purab's love affair news and thus tries to keep away from them but all in vain.
Purab and Pragya leaces no stone unturned to come closer to Abhi, Abhi thus decide to give away all trouble.
Purab makes one or the other attempt to bring Abhi closer to Pragya and also gers successful.
Purab's master trick brings Abhi and Pragya closer
Purab makes Abhi and Pragya participate in a competition, Abhi agrees while Tanu and Aliya are irked.
Abhi and Pragya gets ready for the competition and Pragya dons traditional saree avatar while Abhi gets mesmerised seeing her.
Stay tuned for more exciting updates of the upcoming episodes.