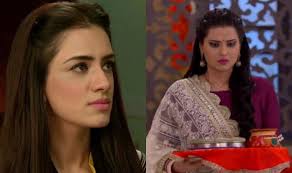 Kasam Tere Pyaar Ki: Malaika (Smriti Khanna) kidnaps Tanuja (Kratika Sengar) at gun point, Rishi tensed
The upcoming episode of Kasam Tere Pyaar Ki will show high voltage drama where Malaika's truth gets exposed.
Rishi exposes Malaika's truth and proved Tanuja innocent, Rano is shocked knowing this truth as she always supported Malaika.
Malaika is irked seeing this and gets furious at Tanuja, Malaika kidnaps Tanuja at gun point and takes her away.
Rishi is tensed knowing this as he knows they Malaika is dangerous and can do anything with Tanuja.
Rishi and Tanuja's love wins battle of life
Rishi rushes to save Tanuja from Malaika's clutches and enters into fierce arguments with Malaika.
Let's wait and watch how will Rishi save Tanuja from evil Malaika's clutches and vicious plan.
Stay tuned for more exciting updates of the upcoming episodes.