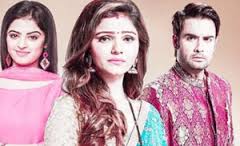 Shakti Astitva Ke Ehsaas Ki: Harman (Vivian Dsena) requests Surbhi (Roshni Sahota) to break marriage alliance
The upcoming episode of Shakti Astitva Ke Ehsaas Ki will show high voltage drama where Harman loves only Soumya.
Harman don't want to marry Surbhi but Soumya has forced him to marry Surbhi giving her swear.
Harman is upset thus decides to take Surbhi's help in it, Harman calls Surbhi to mert him secretly.
Surbhi and Harman meets each other secretly where Harman requests Surbhi to refuse for marriage as he can't.
Surbhi and Soumya stuck in Preeto's trap
Surbhi is stuck as she can also not say know as it's according to Preeto's deal where she has to marry Harman for Soumya.
Surbhi also can't tell this to Harman as Soumya had taken promise from her, Harman thinks that Surbhi will refuse for this marriage and leaves.
Stay tuned for more exciting updates of the upcoming episodes.