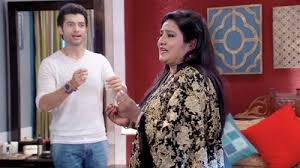 Kasam Tere Pyaar Ki: Raj's illegitimate son Aditya (Rohit Khurana) makes entry in Bedi house, Rishi (Ssharad Malhotra) shocked
The upcoming episode of Kasam Tere Pyaar Ki will show high voltage drama where Malaika's truth gets revealed before all.
Rishi opens Rano's eyes and breaks her blind faith over Malaika, it's Rano who had always supported Malaika in her evilness.
Rano is stunned knowing that Malaika is actually double crossing her by befooling her and betraying Rishi for Shekhar.
Rano hugs Tanuja apologize for her mistake
Rano throws Malaika out of Bedi house and warns her ti never return back again in their life, Malaika is defeated now.
Rano also apologize to Tanuja for misunderstanding her and doing evilness against her, Tanuja hugs Rano and forgives her.
While this is not the end of troubles for Rishi and Tanuja as Raj's illegitimate son Aditya will make an entry in Bedi house.
Stay tuned for more exciting updates of the upcoming episodes.