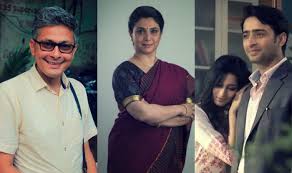 Kuch Rang Pyar Ke Aise Bhi: Ishwari (Supriya Pilgaonkar) and Bijoy's rift to take toll over Dev (Shaheer Sheikh) and Sonakshi's relationship
The upcoming episode of Kuch Rang Pyar Ke Aise Bhi will show high voltage drama in Dixit house where Vicky finds about Dev's loan to Saurabh.
Vicky finds that Dev has invested 5 crore rupees in Saurabh that is Sonakshi's brothers company and gets irked.
Radha and Vicky thus decides to take advantage of this situation, Radha instigates Ishwari against Sonakshi and her family.
Ishwari herself is shocked knowing this and with Dev's decision to hide it from her, Bijoy's entry in Dixit house further spoils all.
Bijoy and Ishwari's argument takes bitter turn
Bijoy and Ishwari enters into bitter argument over this money matter, Ishwari and Radha accuses Bijoy to trap Dev.
Bijoy bursts out hearing this snd puts allegations over Ishwari, Dev and Sonakshi enters just then and are shocked seeing mishap in house.
Dev mistakenly raises hand over Bijoy in attempt to calm down situation but it all goes out of hand, Dev and Sonakshi are stuck in this situation.