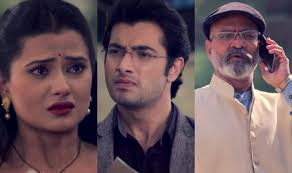 Kasam Tere Pyaar Ki: Rishi, Tanuja (Kratika Sengar) and Raj makes master plan finding Malika's (Smriti Khanna) truth
The upcoming episode of Kasam Tere Pyaar Ki will show high voltage drama where Raj agree for Rishi and Malika's marriage.
Raj agrees to accept that Tanuja wasn't a right choice for Rishi and thus asks Rishi to marry Tanuja.
Rishi takes up Raj's order and agrees to marry Malika, Rishi doesn't stop here but also transfers 90 percent property to her.
Malika is super happy finding that everything is working in her favor.
Rishi and Tanuja's master plan against Malika
While she is unaware that Raj, Rishi, Tanuja are doing this under the plan to expose Malika's.
Let's wait and watch will Malika make biggest mistake of her life and gets exposed.
Stay tuned for more exciting updates of the upcoming episodes.