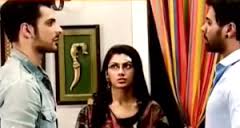 Kumkum Bhagya: Abhi (Shabbir Ahluwalia) shocked knowing about Purab (Vin Rana) and Pragya's affair
The upcoming episode of Kumkum Bhagya will show high voltage drama during Abhi and Tanu's sangeet ceremony.
Purab saves Pragya from goon attack planned by Aliya and consoles her, Aliya gets Purab and Pragya trapped for having affair.
Aliya gets those pictures to display in party where Abhi gets shocked seeing Purab and Pragya's closeness.
Aliya announces that Purab and Pragya loves each other and are in a relationship.
Abhi shocked with Pragya and Purab's affair news
Abhi is shocked and is also irritated hearing that Purab is having affair with Pragya but doesn't say much.
Purab also accepts that he is having affair with Pragya, Abhi gets more shocked while Pragya is also in shocked state.
Stay tuned for more exciting updates of the upcoming episodes.