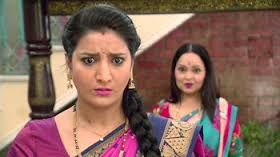 Mere Angne Mein: Riya (Ekta Kaul) and Shivam (Karam Rajpal) successfully traps Nirmala in their plan
The upcoming episode of Mere Angne Mein will show high voltage drama where Ammaji has given challenge to Riya.
Ammaji wants Nirmala to get out of Sarla's life and thus asks Riya to execute this task if she wants to become heir of her responsibilities.
Riya also agrees for the same as she wants to become the heir of Srivastava family.
Riya takes Shivam's help for the same and plans a new man's entry in Nirmala's life to trap her.
Shivam-Riya's master plan against Nirmala
Shivam dons the new aged man look to flirt with Nirmala and show off his money to grab Nirmala's attention.
Riya and Shivam gets successful in trapping Nirmala in rich man's love trap to throw Nirmala out of Sarla's life.
Let's see will Nirmala agrees to leave Ashok for this new rich man.
Stay tuned for more exciting updates of the upcoming episodes.