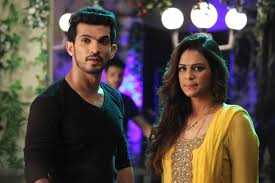 Kawach Kali Shaktiyo Se: Arhaan (Arjun Bijlani) unites Paridhi-Rajbir (Vivek Dahiya) ending evilness
The upcoming episode of Kawach Kali Shaktiyo Se will show high voltage drama where Paridhi in dilemma as Arhaan asks her to leave Rajbir.
Arhaan wants Paridhi to come with him to his world of powers leaving Rajbir but Paridhi refuses.
Rajbir also doubt's Paridhi and decides to leave her and marry Shreya for his sister's sake.
Paridhi is shattered as she is stuck amid Arhaan and Rajbir.
Paridhi knows that only Arhaan can save Rajbir from all evil powers of Manjulika and Swadamini.
Paridhi agrees to Arhaan and decides to go with Arhaan to save him from evil powers.
Paridhi bends before Arhaan for Rajbir
Arhaan is happy fights against evil Manjulika and Swadamini defeats them.
Arhaan is happy but realizes that Paridhi only loves Rajbir and will never be happy with him.
Arhaan thus decides to unite Rajbir and Paridhi, let's wait and watch how will Arhaan do it.
Stay tuned for more exciting updates of the upcoming episodes.