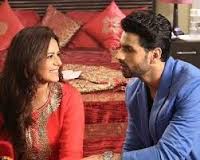 Kawach Kali Shaktiyo Se: Rajbir (Vivek Dahiya) irked seeing Paridhi-Aryan's (Arjun Bijlani) friendship
The upcoming episode of Kawach Kali Shaktiyo Se will show that Paridhi's angel has entered in her life.
Aryan a jinn has come in Paridhi's life to help her fight against Swadamini and Manjulika.
Paridhi is happy to get Aryan's help against evil powers of Swadamini and Manjulika thus takes his help.
Rajbir is unaware about Aryan's real identity and doesn't like Paridhi being closer to him.
Rajbir doubt's Paridhi
Aryan has captured Manjulika in his ring and plans to kill Manjulika thus decreasing Swadamini's powers.
Swadamini is not gonna leave Aryan and Paridhi like this, Swadamini and Aryan will have fierce fight.
Rajbir is in other dilemma and doubt's his love Paridhi, let's see what new twist will this brings forth.
Stay tuned for more exciting updates of the upcoming episodes.