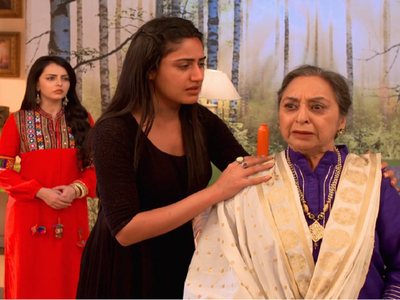 Ishqbaaz: Shivika, RiKara and RuVya plans Dadi (Navnindra Behl) and Surya's marriage
The upcoming episode of Star Plus popular daily soap Ishqbaaz is up for high voltage drama.
Anika, Rudra and Omkara notices something weird in Dadi's behavior since Surya had came.
Rudra shows his doubt, while Anika also notices that Dadi has changed and behaving too young.
Shivaay refuses to any such thing but decides to find what is going on for Rudra, Omkara and Anika's sake.
Shivaay, Omkara and Rudra plans Dadi and Surya's remarriage
Shivaay and others will learn about Dadi and Surya's old love and decides to unite them by love.
Dadi and Surya's wedding will be announced and Shivaay, Rudra and Omkara will suggest Dadi to move on and enjoy her next innings with someone loved.
Stay tuned for more exciting updates of the upcoming episodes only on latestgossipwu.com