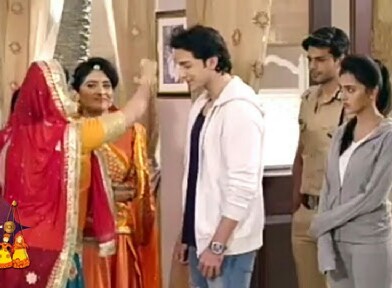 Rishta Likhenge Hum Naya: Kakimaa Sa's poison trap for Ratan (Rohit Suchanti) vis kheer, Diya (Tejaswi Prakash Wayangankar) alerted
The upcoming episode of Sony Entertainment Television newbie show Rishta Likhenge Hum Naya is gearing up for new twist and trouble.
Ratan has returned to India and gets grand welcome in Kesar Mahal and Kakimaa Sa showers her love over him.
Diya knows everyone's real face while Ratan is still unaware over fake love and drama.
Ratan's Raj Tilak ceremony has been organised while Kakimaa Sa plans poisoning attack over Ratan.
Kakimaa Sa prepares kheer for Ratan's Raj Tilak and tries to feed him which has poison while Diya stop her.
Diya fails Kakimaa Sa poisoning trap for Ratan
Diya asks Kakimaa Sa to eat the kheer first and then only Ratan will eat it, Kakimaa Sa is stuck in her own plan.
Kakimaa Sa drops the kheer and Diya gets her another victory over Ratan's enmies and Raj Tilak ceremony happens smoothly.
Stay tuned for more exciting updates of the upcoming episodes only on latestgossipwu.com