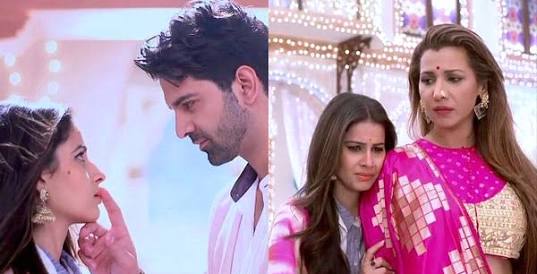 Iss Pyaar Ko Kya Naam Doon 3: Chandni (Shivani Tomar) and Sasha's (Smriti Khanna) war off for Advay's love
Star Plus popular daily soap Iss Pyaar Ko Kya Naam Doon 3 is going love way with a twist.
Chandni is making efforts towards Advay to revive him from past pain and to get back her Dev.
While Chandni's efforts are showing little results, but Chandni is hapoyy at least there are some changes.
Chandni's this happiness will get ruined by Advay's ex-girlfriend's entry which will be played be Smriti Khanna.
Advay and Chandni's love at stake
Sasha and Advay loves each other but now Sasha comes to show her right over Advay thus making Chandni jealous.
Chandni will not let Sasha and Advay get closer and will open war against Sasha to secure Advay's love.
Let's wait and watch to see this face off amid Chandni and Sasha for Advay Singh Raizada.
Stay tuned for more exciting updates of the upcoming episodes.